Flood Solutions is a second generation, family-owned and operated manufacturing company.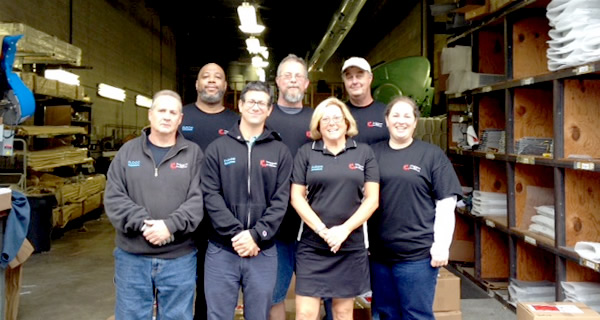 Lori Malitsky, CEO, founded Flood Solutions in 2008. She was in the manufacturing business for 26 years prior to beginning Flood Solutions, manufacturing heavy-duty aluminum air vents used for commercial and industrial projects.
After many requests from customers to purchase flood vents from the air vent manufacturing company, she commissioned the design of a new line of FEMA compliant flood vents and in 2008 launched Flood Solutions, LLC.
Today, Lori runs both companies with the help of Rodd Malitsky, her son, who oversees sales and day-to-day operations.
All Flood Solutions FEMA-compliant flood vents are proudly manufactured by hand in Pelham, New Hampshire by the people you see in the photo.
 Click Here for SIZES, COVERAGE & PRICING               Click Here for CERTIFICATIONS